We're happy to answer any questions you have or provide you with an estimate. Just send us a message in the form below with any other questions you may have.

IronFort™ – Intel Select Solutions for Microsoft SQL Server V2
IronFort™ – Run SQL DB at unbelievable speed on IronFort
Presenting Intel verified configurations for Intel® Select Solutions from InfraSky™
Hardware made exclusively for Microsoft SQL Server. Rock-solid performance on both structured and unstructured data. This server is built to handle data load, a workhorse of no equal.
No other servers bought off rack can match the performance of this Intel select solution. Engineered to handle database workload from the ground up.
Unique advantage
The solution we provide is adaptive, tailor-made to suit specific requirements, and component-level customization, quite unlike the off-the-rack solutions. We make sure the solution performs and exceeds your expectation.
Why us?
Tuning the box specific to the version of the DB and the nature of operation, namely read/write/mixed loads with the queue depths in count, and not just the hardware matching, makes this a beast, in its own right.
In fact, the more precise you are on your requirement, we can match the solution to service it.
A bold claim very few could make.
You would then understand, why we call our solution IronFort™.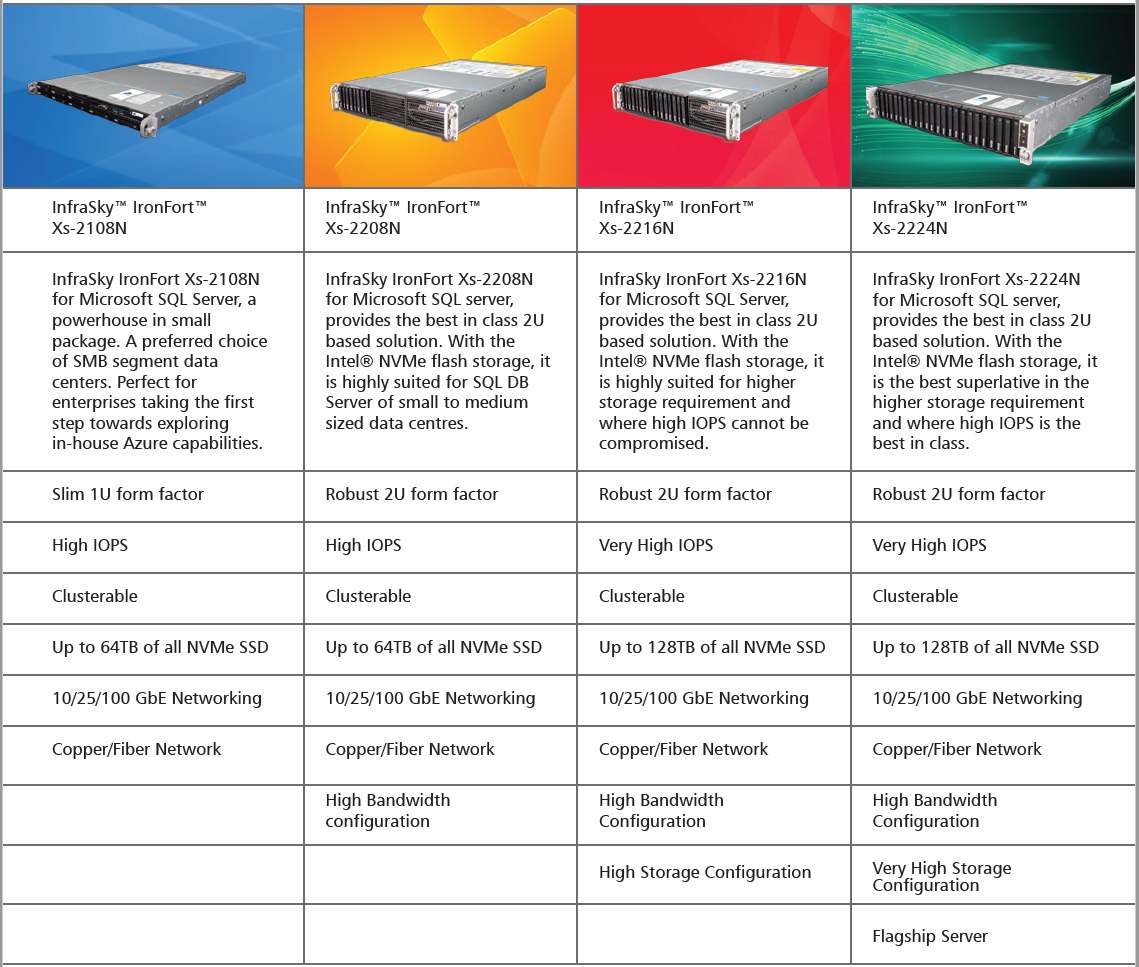 Technologies Used
Intel® Turbo Boost Technology
Accelerates processor and graphics performance for peak loads, automatically allowing processor cores to run faster than the rated operating frequency if they're operating below power, current, and temperature specification limits.
Trusted Platform Module (TPM)
Protects the system start-up process by ensuring it is tamper-free before releasing system control to the operating system. TPM 1.2 also provides secured storage for sensitive data, such as security keys and passwords, and performs encryption and hash functions.
Intel® Trusted Execution Technology (Intel® TXT)
Provides the foundation for highly scalable platform security in physical and virtual infrastructures. It helps harden servers at the hardware level against threats of hypervisor, BIOS, or other firmware attacks, malicious rootkit installations, and other types of attacks or misconfiguration to firmware and operating systems.
Intel® Hyper-Threading Technology (Intel® HT Technology)
Enables multiple threads to run on each core, which ensures that systems use processor resources more efficiently. Intel® HT Technology also increases processor throughput, improving overall performance on threaded software.
Intel® Speed Shift Technology
Allows the processor to quickly select its best-operating frequency and voltage for optimal performance and power efficiency without intervention from the operating system.
Intel® Boot Guard (Security)
Hardware-based boot integrity protection that prevents unauthorized software and malware takeover of boot blocks critical to a system's function, thus providing an added level of platform security based on hardware.
Intel® QuickAssist Technology (Intel® QAT)
Enhance security and compression performance in cloud, networking, big data, and storage applications—for data in motion and at rest. Now you can accelerate compute-intensive operations with Intel® QuickAssist Technology (Intel® QAT).